HarperCollins Publishers Award for Best Cover 2017
Finalist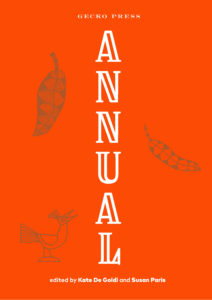 Designer: Spencer Levine
Title: Annual
Publisher: Gecko Press 
Format: 260 x 193mm, 136pp, cased hardback, section sewn, square back. Cover matt lamination with spot UV and gold foil.
Typography: Goldpicker and Mark Pro (cover).
Judges' Comments It was a bold move on the part of the designer to create such a simple cover given the complexity of the internals. And the gamble has paid off. Although it harks back to another era, its vertical type, the gold foil touches and the arresting orange firmly place it in the present day.
---