Celebrating Book Design in New Zealand
Book Design Awards judge has international success
Book Design Awards judge has international success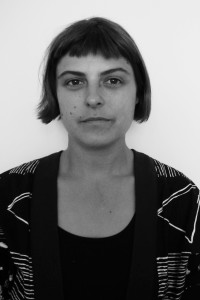 Melbourne book cover designer Miriam Rosenbloom has received major awards for her design skills on two continents – her native Australia and in the UK, where she worked at a leading publishing house. She is the guest judge at the PANZ Book Design Awards which will be announced on 16 July in Auckland.
Melbourne based Miriam is Art Director at Scribe Publications, one of Australia's leading independent publishers which also has offices in London.
What stood out for her among the PANZ Book Design Awards was "The quality of the typography – a lot of the books entered showed strong, confident and sophisticated use of type. Compared to Australia, the use of type was a bit more classic and austere, with more use of hand lettering and illustration in our market."
However, there is plenty of diversity in design trends shown in the entries – in the cookbook section for instance, there are two graphic designs – a major change from the photography usually featured. Another is a case bound book with ethereal flower petals on case and cover. The one photographic cover takes a different approach as it is printed on a pronounced textured surface
"The use of illustration is a design trend that has been going on for the last decade, partly as a reaction to the digital world," Miriam believes. She also approves of the 'rogue and interesting design choices' made by New Zealand designers.
Joining Miriam on the judging panel are leading local book designers Cameron Gibb (2015's convening judge), Kalee Jackson and publisher Vincent Heeringa. They have a number of awards to decide. There are seven design categories, one of which will be named the overall best book of the year. Judges will also decide the PANZ Young Designer for 2015 from portfolios submitted by finalists Anna Egan-Reid, Jessica Gommers and Carla Sy.
PANZ Book Design Awards 2015 are presented on 16 July at the Sapphire Room at Auckland's Ponsonby Central from 6pm. Buy your tickets here.
PANZ Book Design Awards Ceremony
Thursday 16 July 2015, 6–9pm
Venue: The Sapphire Room, Ponsonby Central, cnr Ponsonby & Richmond Roads
Ticket price: $40 incl GST or
$35 incl GST early bird rate (tickets purchased before 5pm Friday 3 July)
Download a registration form here
Book Design Workshop
Friday 17 July 2015, 9.30am – 1pm

Venue: The Square, Generator, Level One, 22 – 28 Custom Street East, Britomart, Auckland City
The workshop will begin with the panel of judges discussing the awards entries and defending their decisions from the night before, followed by a guest international speaker and ending with a lively panel discussion.
We are delighted to confirm that our international speaker this year is Miriam Rosenbloom who is the Art Director for Scribe Publications in Melbourne. Miriam has been working as a book cover designer for over a decade. In 2005, Miriam was awarded Young Designer of the Year at the Australian Publishers Association Book Design Awards. Shortly afterwards she moved to London where she worked freelance and in-house for a number of publishers including a long stint as a senior designer at Faber & Faber. In 2010, she was a member of the Book Design jury for the D&AD awards in the UK. Miriam returned to Melbourne in 2011 and took up the role at Scribe. In 2014 she was awarded 'Best Series Design' at the inaugural Australian Book Design Association awards. Her book designs have been featured in print and online publications around the world. Much of Miriam's work references her interest in textiles and print-making.
All workshop participants will go into the draw to win one of FIVE Adobe Creative Cloud Complete 12 month subscriptions valued at $599. Creative Cloud brings together everything you need to create your greatest work. One simple membership gives access to the very latest versions of all the Adobe professional creative desktop applications such as Photoshop, Illustrator, and more, plus new features and upgrades as soon as they're available.
Ticket price: $45 incl GST or
$40 incl GST early bird rate (tickets purchased before 5pm Friday 3 July)
Download a registration form here