Scholastic New Zealand Award
for Best Children's Book 2017
Winner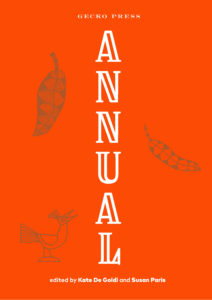 Designer: Spencer Levine
Title: Annual
Publisher: Gecko Press 
Format: 260 x 193mm, 136pp, cased hardback, section sewn, square back. Cover matt lamination with spot UV and gold foil.
Typography: Goldpicker and Mark Pro (cover). Internal typefaces: Goldpicker, Mark Pro, Garamond (various), Calibre (various), Courier and hand drawn fonts.
Judges' Comments 
The task here was huge with so many different creative voices and visual styles to accommodate and create space for. Whilst the designer's hand is very much felt it never pushes its own agenda, rather it serves to hold up the work of others and allow them to shine (like an elf doing its work in the night). The judges were unanimous in their appreciation of
Annual'
s display of masterful design skill executed with humility.
---