Mary Egan Publishing Award for
Best Typography 2015
Highly Commended 2015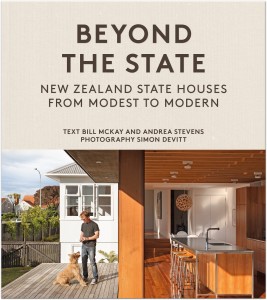 Designer Alan Deare (Area Design)
Title Beyond the State by Bill McKay & Andrea Stevens, photography Simon Devitt
Publisher Penguin New Zealand
Format 265 x 235mm, 288pp, section sewn, cased, horizontal quarter bound.
Judges' Comments What could be more utilitarian than a New Zealand state house? Beyond The State nicely demonstrates there is plenty of character and life within the walls of these old houses, and the typographic design on display here captures that dichotomy beautifully. The hero sans serif typeface is seemingly of the period but utterly contemporary and is always used with great confidence … but never in a manner that over-powers the photographs. Clearly the book hangs off a strong grid structure, but cleverly each page design appears completely unique with no two pages being the same demonstrating that each spread was painstakingly considered. Nice details include use of the bold floating captions which are used as compositional tools to balance the page designs and always seem to be in right place. This is solid book design…  as solid as brick state house, as they say.
---