Edify Award for Best Educational Book 2017
Finalist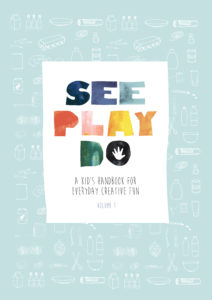 Designer: Louise Cuckow (interior) and Sally Greer, Beatnik Design (cover)
Title: See Play Do: A Kid's Handbook for Everyday Creative Fun
Publisher: Beatnik Publishing
Format: 195 x 275mm, 108pp, perfect bound.
Typography: Azurite, 15pt, 16pt leading. Titles are produced by paper cut letters, scanned then traced. The backgrounds are hand painted watercolour, scanned then photoshopped.
Judges' Comments Not many workbooks also succeed as reading books. See Play Do does. Despite the wide variety of content and swathes of empty space, the book feels balanced and easy to access. By developing its own headline font and captioning style it feels distinctive but then these are used with real restraint.  Touches such as getting children to draw the contributor profiles and the offset stock throughout means it has an internal consistency – this is a book to scribble in! Very impressive and already dog-eared at home.
---