Penguin Random House New Zealand
Award for Best Illustrated Book 2017
Finalist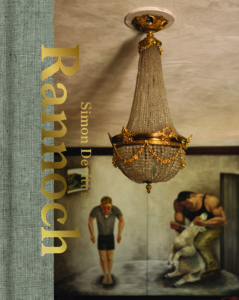 Designer: Arch MacDonnell & Sarah Gladwell, Inhouse Design
Title: Simon Devitt's Rannoch
Publisher: Simon Devitt 
Format: 207 x 165mm, 240pp, section sewn in 16, 8 page sections, quarter bound case with grey cloth, head & tail bands, cased-in square back, gold foil on cover and spine.
Typography: ITC Caslon, Larish Neue.
Judges' Comments This book behaves like a who-done-it. At times dark, then playful and always intriguing, it reveals its subject like a torch illuminating the corners of a room. Rannoch is also deliciously produced, with mixed stock and fabric on the cover and strong imagery throughout. This year we've been lucky to have several books that embody their subject. Rannoch, the book, is like Rannoch the place: it needs to be discovered to be understood.
---