HarperCollins Publishers Award for
Best Cover 2015
Winner 2015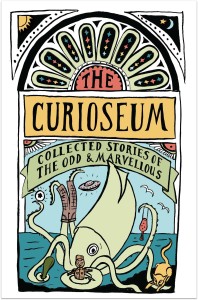 Designer Sarah Laing
Title The Curioseum: Collected Stories of the Odd and Marvellous, edited by Adrienne Jansen, illustrated by Sarah Laing
Publisher Te Papa Press
Format 198 x 130mm, 160pp, paperback with flaps. Cover printed on unlaminated and uncoated card with embossing.
Judges' Comments The 'wunderkammer' (or cabinet of curiosities) is the perfect concept for this quirky collection of stories and the designer has demonstrated a skilled hand, implementing the fully illustrated cover with the perfect balance of hand rendered type, beautiful colour and great choices with regards to the paper stock and the deep embossing that creates a cover design with an that intangible quality that makes it a delight to hold.