Scholastic New Zealand Award
for Best Children's Book 2017
Finalist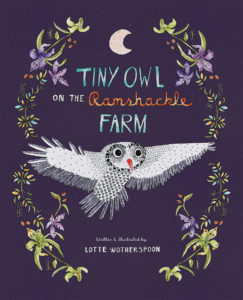 Designer: Lotte Wotherspoon Clay Press and Keely O'Shannessy, Keely O'Shannessy Design
Title: Tiny Owl on the Ramshackle Farm
Publisher: Clay Press
Format: 222 x 280mm, 32pp, section sewn in, casebound. Hand drawn 4 colour end papers.  Craft paper texture in the background of all pages.
Typography: Dolly Roman – chosen for most of the internal typography for its simple, legible and yet playful qualities that complement the detailed hand drawn illustrations without detracting from them; hand drawn typography on the cover chosen to emphasise and support the hand drawn illustrations throughout the book; Marujo – a fun and legible font used on the spine that complemented the hand drawn font on the cover.
---
View shortlist | View winners