Scholastic New Zealand Award
for Best Children's Book 2017
Finalist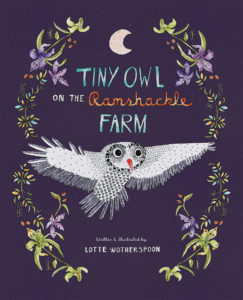 Designer: Lotte Wotherspoon Clay Press and Keely O'Shannessy, Keely O'Shannessy Design
Title: Tiny Owl on the Ramshackle Farm
Publisher: Clay Press
Format: 222 x 280mm, 32pp, section sewn in, casebound. Hand drawn 4 colour end papers.  Craft paper texture in the background of all pages.
Typography: Dolly Roman – chosen for most of the internal typography for its simple, legible and yet playful qualities that complement the detailed hand drawn illustrations without detracting from them; hand drawn typography on the cover chosen to emphasise and support the hand drawn illustrations throughout the book; Marujo – a fun and legible font used on the spine that complemented the hand drawn font on the cover.
Judges' Comments The same elements that last year's judges appreciated in Lotte's shortlisted book (Pukeko Dancing) are present here also: A pretty and inviting cover, a striking limited colour palette and an illustration style that evokes a nostalgic Kiwiana feel in a modern way. Its design is elevated by a changing pace – page to page – where solid purple provides breathing space and contrast to the highly intricate illustrations.
---