Scholastic New Zealand Award
for Best Children's Book 2017
Finalist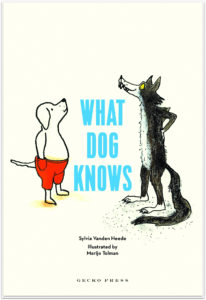 Designer: Spencer Levine
Title: What Dog Knows
Publisher: Gecko Press 
Format: 210 x 148mm, 124pp, jacketed hardback, section sewn, square back, matt lamination with spot UV.
Typography: Cover and internal typefaces are Kapra Condensed and Futura Medium.
Judges' Comments Beautifully executed from the cover to endpapers with wonderful interaction between illustration and text, and delightful details throughout. The clever and clean design delivers an abundance of ideas with such playful deceptive ease that the reader may not even be aware that they are learning!
---