Edify Award for Best Educational Book 2017
Winner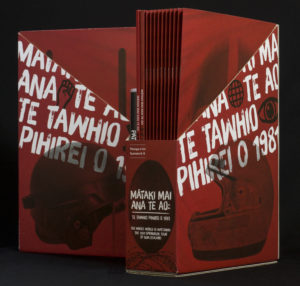 Designer: Tim Hansen, Fay & Walter
Title: Mātaki Mai Ana Te Ao: Te Tawhio Pihirei o 1981
Publisher: HUIA
Format: 210 x 297mm, Student book: 44pp plus cover, saddle staple. Teacher book: 112pp plus cover, perfect bound.  A dramatic colour pallet of red, black and white was chosen to stimulate and engage students. The uncoated stock was chosen to give the resource a historical feel.
Typography: Level 1: Stag (book weight, 9.5pt, 12pt leading), Level 2: Graphik (multiple weights from H1 to H3, 8pt, 11pt leading). The font concept is based around the raw energy of protesting and the banners that define it. The headline font Brush Up (applied to a fabric banner background) has the look and feel of hand-painted banners, and Jockey has an unrefined but readable 'revolutionary' feel. Stag has a typewriter feel but with a clean and modern legibility, and Graphik is a very clear, easy to read and timeless font.
Judges' Comments Making history interesting is not just the teacher's job. This teacher/student pack has cleverly combined the anger and upset of the subject (1981 Springbok Tour) with the need to access information easily. The text is plain and borders on just the right side of legibility but the colours and use of scripted fonts make it feel urgent and important. We all wished we could have learning materials as well considered as this when we were kids.
---