Penguin Random House New Zealand Award for
Best Illustrated Book 2015
Highly Commended 2015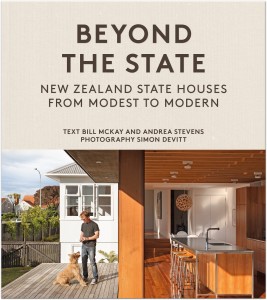 Designer Alan Deare (Area Design)
Title Beyond the State by Bill McKay, Andrea Stevens, photography Simon Devitt
Publisher Penguin New Zealand
Format 265 x 235mm, 288pp, section sewn, cased, horizontal quarter bound.
Judges' Comments Beyond the State is a beautiful and deftly-handled book. The typography is assured with a nod to the distinctive modernist era that the book tells the tale of without ever sliding into retro or pastiche. Throughout the book, the photographs are handled immaculately on a flexible grid that allows for a wide-range of appealing layouts. The cover itself is a lovely study in texture and sheen with the subtly debased cover type printed onto grained case stock contrasting with and balancing the high gloss photographic images below. Beyond the State radiates authority while at the same time has an innate 'pickupability'—the combination of which is a fine feat.
---