A lovely contribution to Book Look from Jane Arthur, Assistant Publisher at Gecko Press.
This wee book isn't a great beauty. It's not something that would be found on any book design shortlists. Its content doesn't interest me, particularly. If it did, there are countless prettier and easier to read editions around. But I'm drawn to it.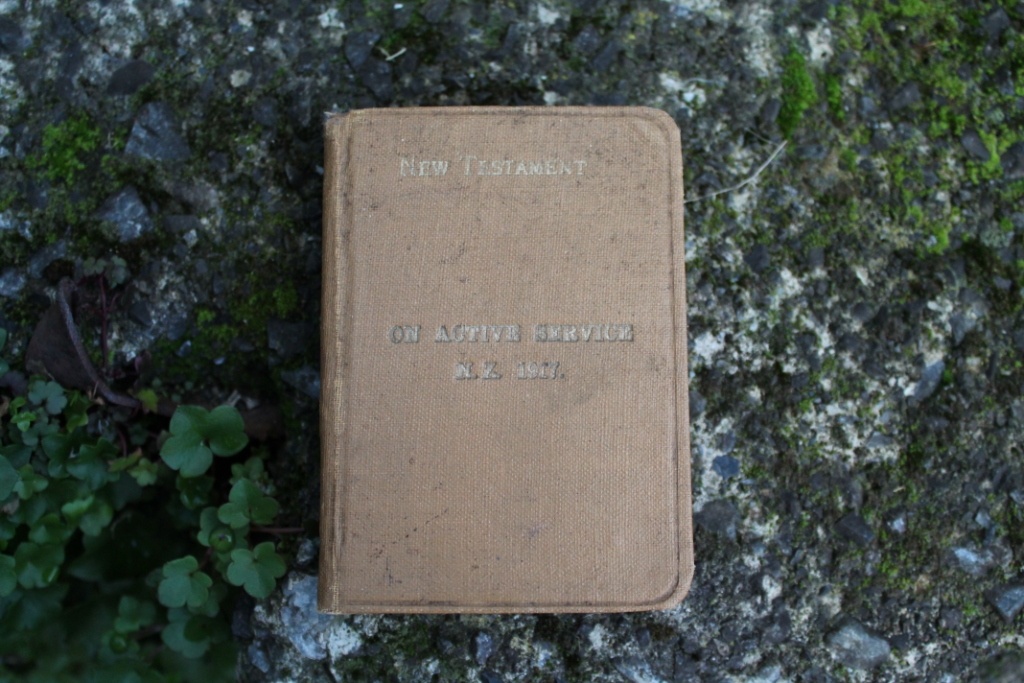 It's tiny: 10cm by 7.5cm (4″ x 3″). The cover is crudely stamped with the words NEW TESTAMENT / ON ACTIVE SERVICE / N.Z. 1917. Nearly a century old, sitting on my shelves next to Penguin Classics and New Zealand short stories and children's picture books and American campus novels.
I'm a tactile appreciator of books. I stroke them, and feel the weight of each page between my finger and thumb, and the satisfying slip from matt lamination to spot gloss UV on a cover. I look under dust jackets and examine spines. I smell books. But with this one, I just hold it.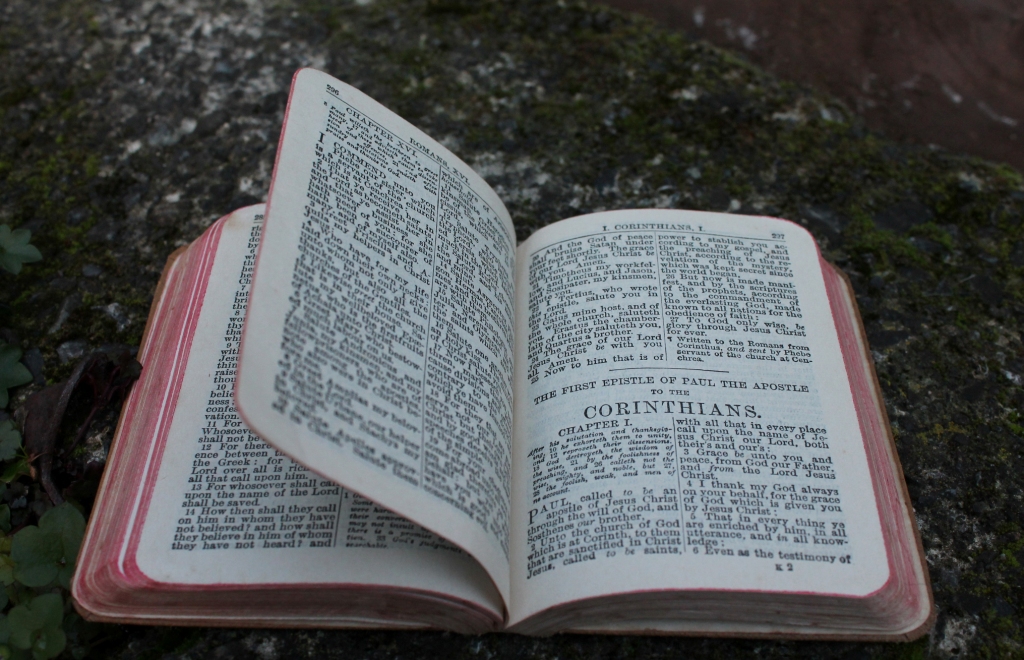 The design of this book is both unremarkable and perfect. Its form is dictated, with little artistry, by its function. It couldn't be much smaller. The pages are thin; the type is tiny. If you look at a photograph of a young soldier, you can imagine it sitting in the chest pocket of his new uniform with a photo of his mum and a letter from his girl, crisp and hopeful; talismans, touchstones, comforts.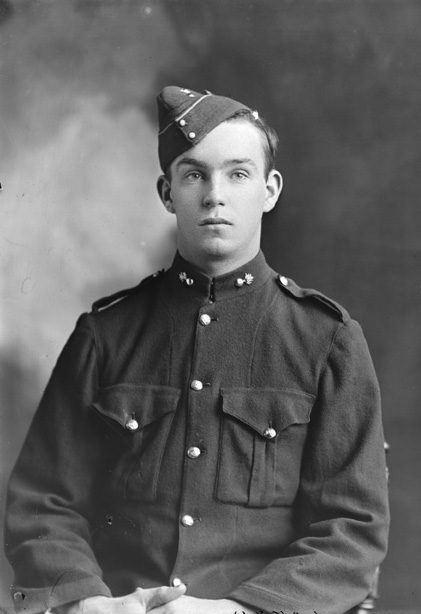 The contract inside the back cover has been crossed out, unsigned. I'm a bit obsessed with imagining who did that and what their reasons were. Maybe the book never made it to the war; maybe it was crossed out by a much later owner, a secondhand bookshop worker. Maybe it did make it but the owner was a non-believer – savvy or sassy, and defiant – or maybe the war made him a non-believer – body-, mind- and heart-broken. Goosebumps.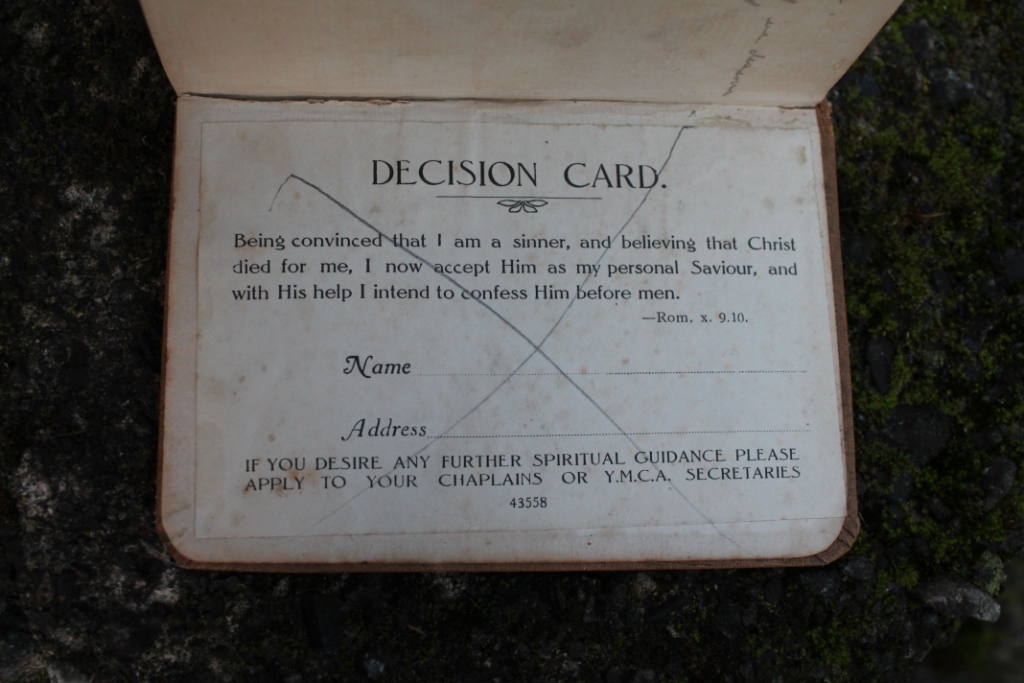 There are tiny pieces of different histories in this book: the First World War, politics, gender, culture. Even a piece of the history of the book industry: it was printed in Scotland (a prohibitively expensive, unheard-of option for New Zealand publishers these days) – was it shipped to New Zealand only to ship back over to Europe in the pockets of the troops, or were they handed it upon arrival?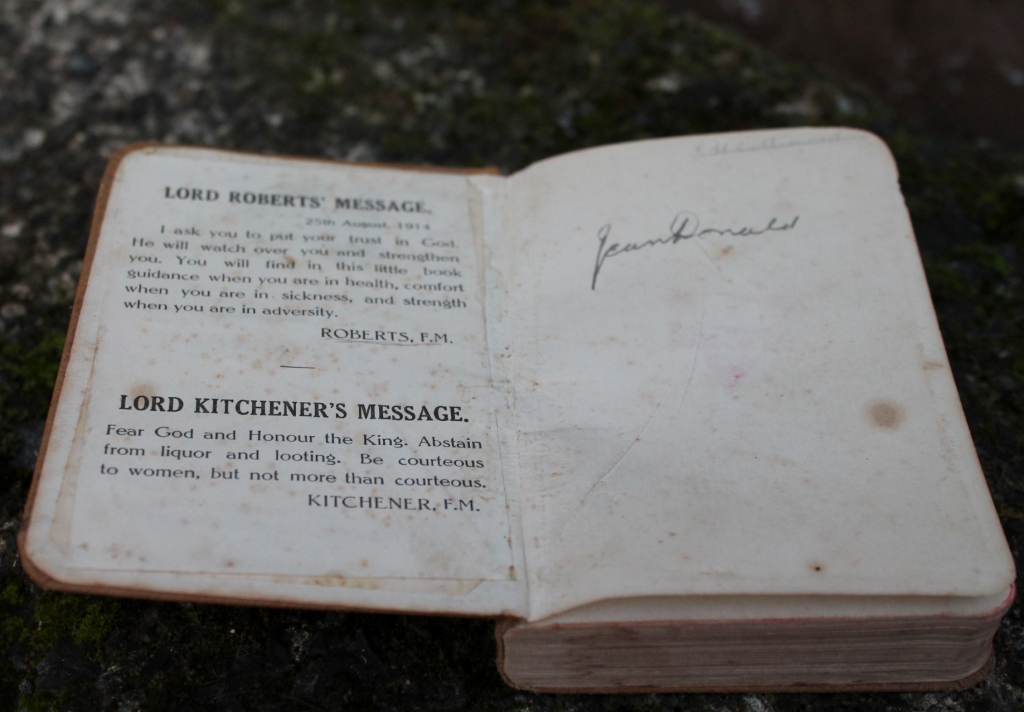 All books create questions. Sometimes it's the cover design: I wonder what this book is about? (Or: Why did they use that hideous typeface?) Sometimes it's the words and images inside the cover. Sometimes it's the age and history of a book that get us thinking, Whose? Where? Why?
I have nothing against ebooks. But a paper book can become an artefact, something weighted by its contents and history. This little one is heavy.
—–
NOTE
Photograph of unidentified soldier, "Sir George Grey Special Collections, Auckland Libraries, 31-68257", http://www.aucklandcity.govt.nz/dbtw-wpd/exec/dbtwpub.dll?BU=http%3A%2F%2Fwww.aucklandcity.govt.nz%2Fdbtw-wpd%2FHeritageImages%2Findex.htm&AC=QBE_QUERY&TN=heritageimages&QF0=ID&NP=2&MR=5&RF=HIORecordSearch&QI0=%3D%2231-68257%22