1010 Printing Award for Best Cookbook 2017
Winner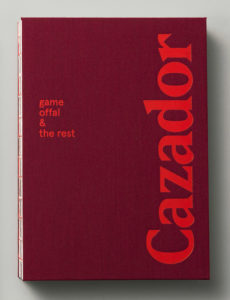 Designer: Tim Donaldson and Amanda Gaskin, Sea Change Studio
Title: Cazador — game, offal & the rest
Publisher: Cazador  
Format: 240 x 170mm, 248pp, exposed and thread sewn to reflect the raw stripped back aesthetic of the food and interior, and make it feel like it could be an old field guide with spine ripped off. Burgundy linen was used as a reference to the old table-cloths used in the restaurant. FSG stock used.
Typography: Display typeface is Matrix Bold (variable type sizes and leading). Supporting typefaces are Apercu: Light, Regular, Medium, Bold, Mono (variable type sizes and leading), Fortescue Regular (variable type sizes and leading).
Judges' Comments  
Brave, classic, yet excitingly contemporary.
Cazador
's exquisite production values are immediately seductive. It is beautiful to hold and look at. The blood linen cover, exposed 'frenched like' binding (that opens flat for function), arresting artful photography, an interestingly paced layout that never gets pedestrian, knife-like typography that also plays homage to the 1980's heritage of it's restaurant home. The outward beauty is sensitively matched by a depth of thought that reveals the soul of Cazador (the restaurant) and its story. An outstanding package.
---