HarperCollins Publishers Award for Best Cover 2017
Winner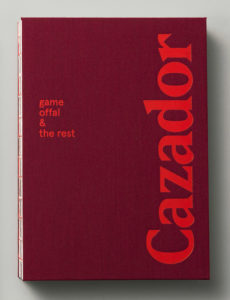 Designer: Tim Donaldson and Amanda Gaskin, Sea Change Studio
Title: Cazador — game, offal & the rest
Publisher: Cazador  
Format: 240 x 170mm, 248pp, exposed and thread sewn to reflect the raw stripped back aesthetic of the food and interior, and make it feel like it could be an old field guide with spine ripped off. Burgundy linen was used as a reference to the old table-cloths used in the restaurant. The books are personally signed by the Cazadors, and are sent out wrapped in butcher's paper and string.
Typography: Display typeface is Matrix Bold (variable type sizes and leading). Supporting typefaces are Apercu: Light, Regular, Medium, Bold, Mono (variable type sizes and leading), Fortescue Regular (variable type sizes and leading).
Judges' Comments 
This well-crafted cookbook really grabs your attention. The whole package is rich with references and meaning. The linen cover, reminiscent of an 1980s tablecloth, creates a nostalgic feel but it also seems very personal and reflects the unique identity of the restaurant. We love the exposed binding and stitching which allows you to look at the skeleton of the book but also evokes the game meat carcasses that the book celebrates. The judges also loved that it lies flat, assisting its functionality.
---