Penguin Random House New Zealand
Award for Best Illustrated Book 2016
Winner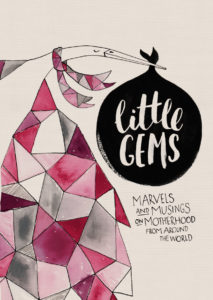 Designer: Becky Ollivier
Title: Little Gems
Publisher: The Private Three Ltd 
Format: 170 x 240 mm, 96 pp, casebound, section sewn, selfends. Paper stock 130gsm Yu Long Pure 1.3 Creamy Woodfree. Fully cased with Wibalin over board, square back, head and tail band.
Judges' Comments.  Little Gems is an endearing surprise – a harmonious mosaic of design, illustration and typography. It handles its potentially sentimental content in an unexpected and delightfully expressive way. Playful and joyful with a groovy handcrafted feel, each page is artfully touched and deftly designed. Its colour palette, size and format, warm uncoated stock and textural nature of production all add to its soulful feel.
---